License plate recognition in Obseron works with Hikvision LPR cameras (e.g. DS2CD4A26FWD-IZHS/P) or with ARH Inc. Freeflow or Parking dongle.
To use the LPR feature in Obseron, you need to have an Obseron LPR license per connected camera for Hikvision LPR cameras, or an Obseron ARH dongle license per Obseron Recorder where the dongle is connected.
Enabling and disabling License Plate Recognition features
Adding permits
Adding permits enables the use of general permits on more than one vehicle at a time. Changes in the permits are updated directly to all the vehicles the permits are connected to, so all the schedule changes or such can be defined this way at once.
To add a new permit, click the Add... button. The permit must be connected to certain gates that are to be controlled. Begin date, end date and area time limit can be also defined for this permit.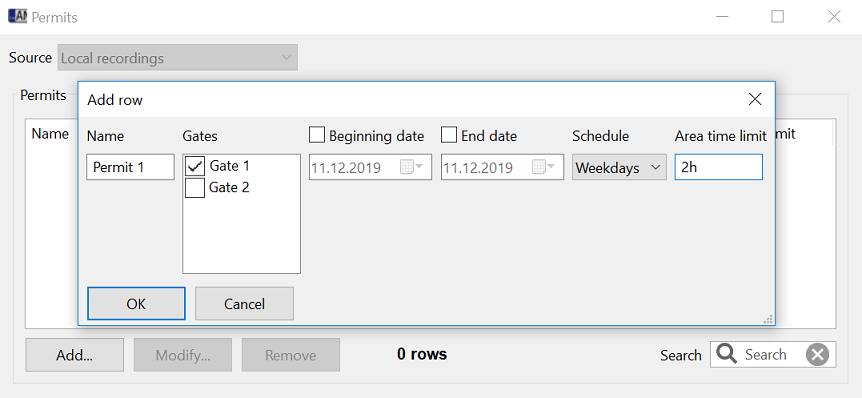 Connecting a vehicle to a permit
The permit must be connected to a vehicle, so the gate can be controlled. Vehicle-specific permits can also be defined this way.
Go to Menu > License Plate Recognition > Vehicles and Permits...

Click the Add... button to define a permit to a certain vehicle.

Add a vehicle and connect it to the desired permit. Now the license plate is connected to a permit that will open the gate if the rule is defined.

Openings of the gate can be limited for this vehicle by activating the Openings checkbox and defining the wanted amount of openings.
A vehicle can also be locked, so the permit is not active, but the vehicle will remain in the database for later use.
Schedule and gate settings are found under Menu > Settings > License Plates. These settings must be defined so the license plate recognition can be used for controlling gates or other external devices.
License plate recognition settings
Go to Menu > Settings > License Plates.
1. Adding a day schedule
Press the Add... button under the Day schedules section. Enter the schedule.

2. Adding a week schedule
Wanted day schedules are connected to week schedules. In the example below, an Office hours day schedule is added to a Weekdays week schedule.
3. Adding gates
Adding gates is necessary for the permits to be used to control the gates.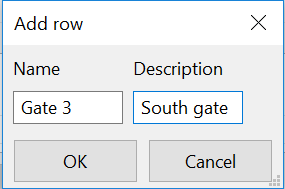 4. Adding roles
Roles for license plate recognition cameras must be defined in order to keep track of the vehicles in the area.

Using a rule to open a gate
This example shows how to open a gate if a vehicle with a valid permit is recognized and the schedule is valid.
The recognition
Obseron will now recognize the license plates and open the gate if the permit is valid.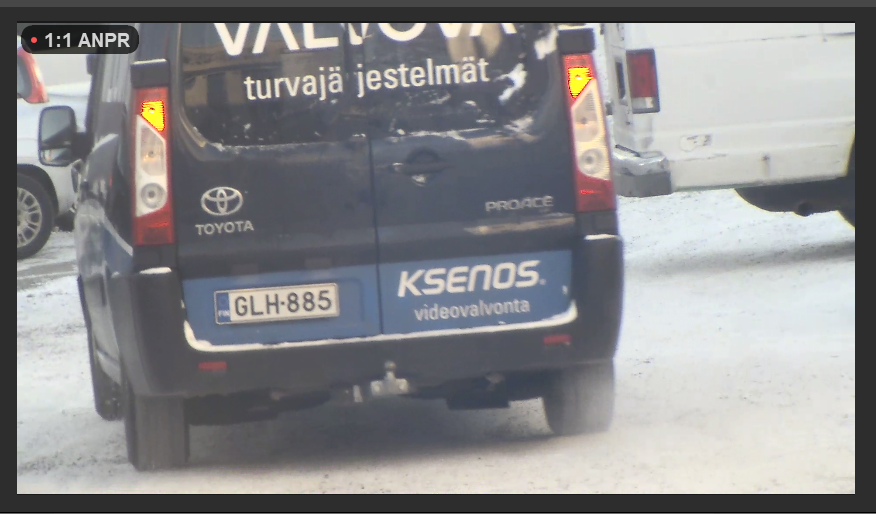 If roles are set, vehicles in the area can be tracked.
Recognized vehicles are listed and saved into a database. Click the list entries to open recordings from the corresponding camera at the time of recognition.
The list can also be exported in Excel format.
Ignoring plates in Hikvision LPR camera
Go to Settings > Cameras > [name of the camera] > ANPR (For Hikvision ANPR-camera type)
or Settings > Cameras > [name of the camera] > Components > ANPR (For any camera type with Hikvision ANPR component)
Enter plates separated by commas in the field Ignored license plates