The Notification widget gives required information on system operations and events in the environment.
Add a notification widget
Go to Edit Mode.
Select Widget > Notifications


Add a rule that creates notifications
Go to Menu > Settings > Rules
Click +


Select the added rule.

Set rule condition to e.g. Motion detection.
Select the camera you would like to trigger the rule.
Set Hold for (sec) to the desired amount e.g. '10'. This prevents the rule from triggering too many times in a short period of time and creating many notifications from the same event.
Set rule action to Notification/Alarm.
Fill in the desired information.

The notification is shown in the Notification widget when the rule conditions are met.

Using the Notification widget
Notifications can be clicked on in the notification's camera image, which opens the camera image in peek mode for the time in question.

You can view previous notifications by scrolling down with your mouse wheel. Notifications can be removed one by one by clicking the cross in the upper right corner.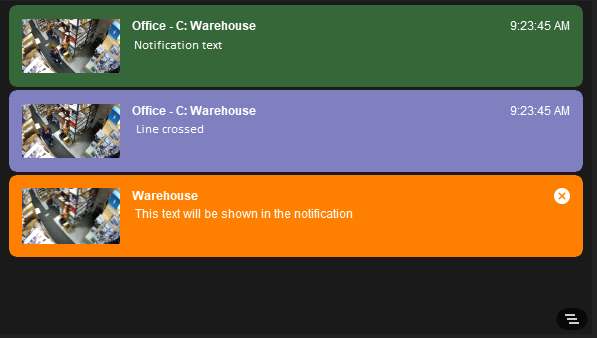 If you wish to remove all notifications at once, click the Clear all notifications button in the lower right corner.